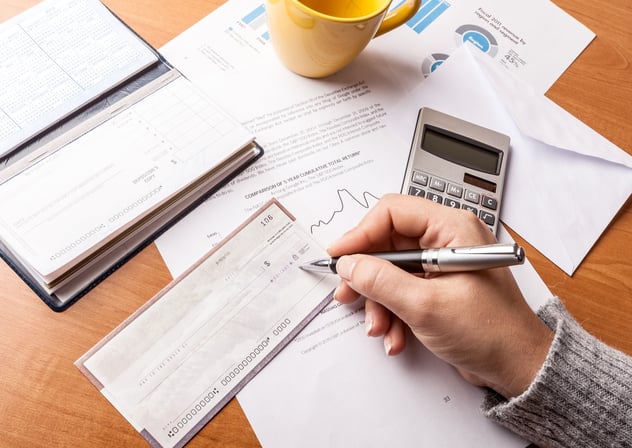 In today's world, owing a friend some cash isn't a big deal. There's Venmo, PayPal and peer-to-peer payment capabilities with mobile banking apps to help pay the debt.
The wide range of options for making payments of any kind might make one think such an outdated payment method as the check would have fallen by the wayside by now. And, for much of the world, it has - save for the U.S., where reliance on the paper check is still strong.
In 2015, Americans wrote 19.4 billion checks, according to The Federal Reserve Payments Study 2016. Bloomberg pointed out that, on average, U.S. citizens made 38 check transactions per person, compared with 18 per person in Canada and eight in the U.K.
Despite these numbers, the popularity of the check isn't doing so well. According to the PYMNTS Disbursement Satisfaction Index, paper checks received a score of just 4.4 out of 100. Meanwhile, direct deposit received a perfect score, instant credit came in at 71.9 and non-instant credit reached 48.3. Consumers clearly don't enjoy the paper check, but can't seem to give it up.
Checks prevail in rural America
To understand why checks continue to be a staple in the typical American's financial strategy, it's important to know when and where they're used. Bloomberg reported that many older and rural Americans turn to checks for even the most basic transactions like gas or groceries for the simple reason that they're used to them. They know how to write out a check and it works for them.
Another reason is that many check-writers may not have traditional bank accounts. There are about 9 million Americans who were unbanked in 2015, and another 24.5 million who were underbanked, according to a study by the Federal Deposit Insurance Corporation.
An unbanked person has no bank account; an underbanked consumer may have a checking or savings account but also relies on financial products outside the traditional banking system. Often this means turning to check-cashing services, or payday or pawn shop loans to help them pay bills and manage their money. Additionally, this population is more likely to be paid by their employers with a paper check.
Further, the fact that paper checks offer a completely offline payment solution could fuel their popularity. According to a 2016 Pew Research Center study, 13 percent of Americans remain offline, separating them from digital payment options like mobile wallets or Venmo.
Business owners prefer checks for B2B payments
Other than the un- or underbanked, the world of business is another area where checks continue to be a constant. In fact, one 2016 study conducted by Association of Financial Professionals found that, between 2013 and 2016, check use for B2B payments actually increased 1 percent, PMNTS reported.
One reason for the heavy reliance on checks in business transactions might be simple habit. For a business owner who first opened shop several decades ago, checks were the dominating payments force when they were just getting started. Check writing became routine and hasn't changed.
Another reason could be outdated technology. Digital billing and payments technology requires time, money and expertise to obtain and implement.
While few businesses likely prefer to receive a check, the process of sending one out has one important advantage: It gives the business's bank account a break before the cash is taken out. This window might be helpful during times of hurried cash flow.
Prevailing problems with the paper check
Despite the fact that many Americans continue to prefer their checkbooks over newer payments, there are several reasons that moving on to innovative methods may be a good idea.
Sending and receiving payments through digital banking methods is quicker. No one needs to hunt down an envelope, stamp or operable pen. Funds are typically available sooner with digital methods, which is an advantage - there's no need to wait for the mail delivery or for the check to clear.
Digital payments are also cheaper; the median cost of sending a check in 2015 was $3, according to a study from Association for Financial Professionals. The median cost of receiving one is $1.57. Meanwhile, the costs associated with sending or receiving electronic payments were $0.29 and $0.27, respectively.
Check-writing is time-consuming. You have to write out the date, the amount (twice!) and sign it. With the right electronic payment method, you can send your payment with the scan of a fingerprint.
How to encourage your members to move on from paper checks
Chances are your members utilize a combination of payments cards, cash, checks and digital pay technologies. While some of your members may continue to prefer writing checks, there are others who are likely willing to try a faster, more convenient way to make payments.
Advertise your digital payment offerings and explain how to use them. Additionally, reassure members that using a mobile wallet or issuing online payments through your credit union's online portal is secure and effective.
Working with your business members on updating their payments systems and adopting newer, more modern technologies could encourage them to move away from the paper check as well.
For now, checks are an important part of the payments landscape in America. As such, it's a good idea to continue to offer them to your members. However, in time, this payment method is likely to become more obsolete. By working with your members now to adopt other payment methods, you may make the transition away from paper easier.