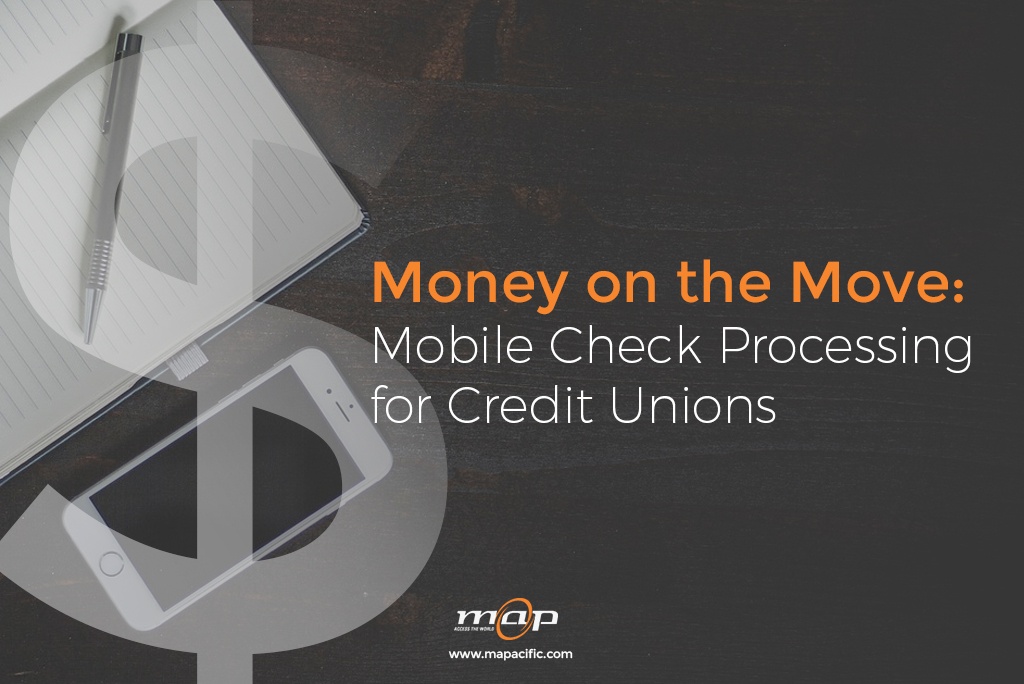 There's an app for everything, including your money. People's time is more valuable than ever with the fast-paced environment we live in. Finding time to walk into a brick and mortar bank to cash a check can be a challenge. Mobile check processing offers a unique opportunity for credit unions to help their customers and stay on the cutting edge.
Banking is no longer an activity that only takes place between 9:00 a.m. and 5:00 p.m. People want access to their money while they are on the go at any time, anywhere. The number of people visiting financial institutions in-person is declining. In fact, 68 percent of millennials bank online and are the age group most open to non-traditional modes of payment.
To keep up with the fast-paced world we live in; credit unions need to make sure members can take their trusted financial partner with them on the go. Member Access Pacific (MAP) allows credit unions the ability to offer their members mobile check processing. With mobile check processing, members will be able to deposit checks from their smartphone.
Along with mobile check processing MAP's Payment app will allow your credit union members the following added benefits:
Card Controls: Real-time control over their credit and debit cards
Location Services: Branch location information will be available as well as merchant information
Timely Information: Account information in real-time, accessible at any time
Alerts and Notifications: An extra layer of security through fraud alerts and account balance notifications
MAP's app is a mobile payment solution that is easy to implement and will help your members feel more connected to their accounts. Our app is managed and hosted by our trusted partner, Visa. This app can be seamlessly integrated into your card product line as well as help strengthen your card portfolio by providing the latest technology to your membership.
Mobile Location Confirmation also helps reduce fraud and provides your members with an extra layer of security. This feature offers real-time geolocation intelligence for those enrolled in the program allowing you to confidently approve the transactions when your members are traveling. Visa will send this information collected from your members to your credit union as part of the authorization request.
All of MAP's digital solutions offer the power of Developer Solutions. With this service, Visa Developer offers application programming interfaces (APIs) that allow you to integrate the functionality of Visa with your products. Digital Solutions gives credit unions the ability to customize programs that meet their specific needs and bring their ideas to life.
One in three millennials say they are willing to switch financials within the next 90 days. Do not miss out on capturing this opportunity for new members. Add the convenience and simplicity of mobile check processing millennials prefer and are searching for by contacting MAP today.