Buy Now Pay Later (BNPL) was all the rage in 2020 and continues into 2021. Many larger companies have adopted BNPL. Breaking it down by BNPL firms, below are a few of the larger companies that use BNPL:
Affirm — Amazon, Best Buy, Expedia, Nike, Neiman Marcus, Saks Fifth Avenue, Walmart.com
AfterPay — Bed Bath & Beyond, Dillard's, Ulta Beauty
Klarna — Bloomingdale's, Macy's
PayPal — Pay in 4 (its in-house solution)
There's no doubt that BNPL has widespread adoption, occurring in a fairly short period. But how well has it performed compared to credit cards?
A study published by Credit Karma, which Qualtrics conducted, showed that one-third of US consumers had fallen behind on at least one of their payments. Additionally, 72% of survey respondents said their credit score had fallen.
Affirm's latest earnings report beat expectations. They also raised guidance. But once you dig under the surface, you can see that everything is so rosy. The chart from Affirm's earnings release displays the allowance for losses and the percentage of those allowances relative to the company's loan book. FY Q'21 losses were 5.8%, which is ~2X that of US banks charge-off rates for credit card portfolios (~2.4 percent as of Q2 2021).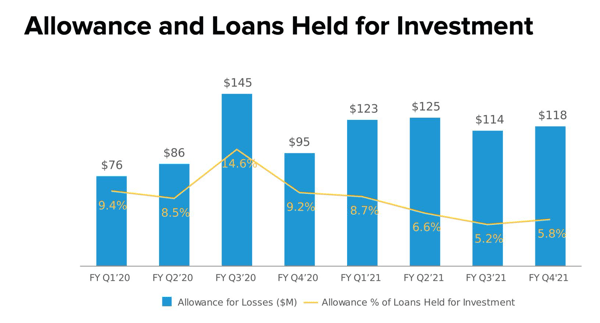 Affirm's loss ratios (i.e., the yellow line) had been trending down. But the recent quarter shows an uptick. Time will tell if BNPL loss ratios eventually converge with that of credit cards.
BNPL grew extremely fast, mainly because it did not have the same regulatory scrutiny as other traditional financial products. However, that could be changing. Regulators are starting to voice their concerns about how credit is issued to consumers, especially younger ones. However, there isn't much difference in how credit is granted for credit cards compared to BNPL.