Why would a payment processor, which doesn't accept cryptocurrencies as a form of payment, buy an NFT? How does the purchase of an NFT help Visa grow...or does it? And what the heck is an NFT anyway?
Visa recently paid $150,000 in Ethereum (ETH) for a very pixelated digital artwork, shown below, called CryptoPunk 7610. Maybe Visa got a good deal on its artwork because there are people paying multiples of that for clipart of rocks. You heard that right — clipart just like you'll find in Microsoft Word.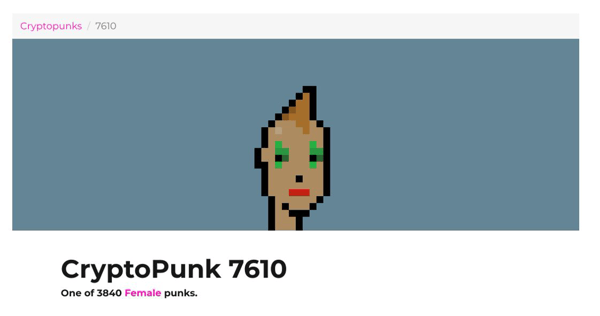 So what is going on here? In a word, NFT mania — the latest crypto-craze. An NFT is a non-fundable token. This means it can't be exchanged 1:1 at the same rate for another NFT. That is unlike a cryptocurrency, where one bitcoin can be exchanged for one bitcoin. Currently, NFTs are mainly digital artwork. What makes them unique from regular digital artwork is that the NFT resides in the blockchain and anyone who buys an NFT is the sole owner. No one else can own that NFT. In a way, that makes them similar to physical artwork.
However, saying an NFT is the same as physical artwork just isn't true. But for now, this doesn't degrade their value. So far in 2021, NFT sales have topped $2.5 billion, up from $100 million in 2020. In contrast, Visa's total volume is around $8.8 trillion.
CryptoPunks are a big thing in the NFT space because there are only 10,000 of them. They started being created in 2017. Whether they are artwork or not is debatable. One thing they have in common is that they are very chunky (i.e., pixelated). They are 24 x 24 pixels in size or 576 pixels in total.
One CryptoPunk sold at the Sotheby's for $11.7 million. Currently, the floor price or lowest price a CryptoPunk is going for is $240k. For the 30 days before Aug 26, NFT sales totaled more than $467 million. The highest sale during that period was CryptoPunk 7252, which went for $5.33 million. And yes, it is another pixelated head (a zombie in this case).
Marvel created a bunch of NFTs that it ended up selling out of. Remember, you can't just keep selling the same NFT over and over as you can with software.
This isn't Visa's first foray into crypto. It's actually familiar territory for them. During the first six months of 2021, Visa crypto-related cards racked up over $1 billion in spending. It's also made a number of agreements and investments in crypto platforms and networks.
Visa said that its purchase of this NFT is to learn about NFTs. Meaning transacting in an NFT, taking ownership, and other aspects around the transaction and valuation. It plans to acquire more NFTs in the future.